Medical Products
All of our products are designed and chosen for their quality and ease of use. At Access to Independence, our first priority is you-and that's why we are proud to feature durable medical products from quality brands such as Golden Technologies, Sunrise Medical, Medline, Hill-Rom, Etac, and, more.
We highly encourage you to visit our 12,000 square foot facility located less than 30 minutes from downtown Akron, Canton, Cleveland, and Youngstown, in picturesque Portage County, Ohio. This showroom is one of the largest of its kind in North America. Our store has: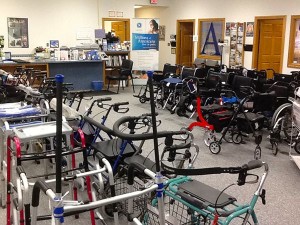 Manual and Power Wheelchairs
Scooters, mini to bariatric sizes
Patient Floor Lifts
Lift Chairs, petite to bariatric sizes
Adjustable Beds, sizes twin to king
Seating and Positioning products
Canes, Walkers, and Rollators
Aids for Daily Living
Compression Hosiery, for dress or athletics
Bamboo Eco Socks
Hygiene and Incontinent Products
For Home Modifications or to learn more about products like roll-in showers and grab bars, click here.